Polished concrete floors are the perfect durable, beautiful and sustainable design element for your next project.
Quality is the Foundation of Everything We Do
Call Us for a Quote
Let's get started. Let us know how we can help you and we'll be in touch as soon as possible.
Polished concrete is an extremely durable, long lasting and low maintenance flooring system. It is the flooring surface of choice for any building with high volumes of foot traffic where floor lifespan is a key consideration.
Our polished concrete in Edmonton & area is perfect for applications where sustainable design concepts are required. It is recognized by LEED and the US Green Building Council as being a good choice for todays green buildings.
CONCRETE POLISHING IN EDMONTON
Looking for polished concrete services in Edmonton? Rexbright Polished Concrete is a complete concrete surfacing solution. Our concrete polishing system will enhance the beauty, strength and abrasion resistance of your concrete floors while simultaneously decreasing facility maintenance costs.

Rexbright Polished Concrete can transform and enhance a wide range of old and new concrete floors. Through a process of mechanically grinding, polishing and densifying the concrete surface, we will bring out the beauty, functionality and durability already present in your floor. We have solutions for every concrete floor and we can tailor them for a wide range of applications and design concepts. Rexbright Polished Concrete in Edmonton is designed to last and will still look and function beautifully years after installation.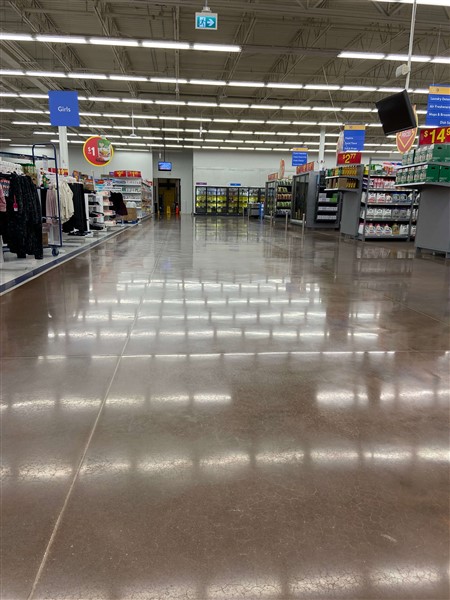 The entire concrete floor is ground repeatedly starting with 18 grit diamonds all the way up to the grit required to create the requested sheen level.
Cracks or damage to the floor are filled with a polishable repair mortar. These repairs are sometimes often visible after the floor is finished and add a unique character to the surface.
During this process we apply a lithium densifier to harden the concrete. This penetrating treatment reacts chemically with the free lime in concrete to produce calcium silicate hydrate which makes the concrete stronger and more durable.
During the concrete polishing process we can also apply an optional urethane grout to the floor to fill in the small imperfections in the floor surface. This will help to make the floor smooth and more durable.
Last, an optional sealer called a guard can be applied to the floor and then burnished. A guard is not designed to make the floor stain proof, it is intended to provide time to clean up spills before they are absorbed in the floor.
Polished concrete can be produced in 4 levels of sheen:
smooth densified surface with little to no reflection
smooth densified surface ground to 400 grit produces a low luster matte finish. This is the most popular finish for high traffic commercial buildings.
medium luster finish polished to 800 grit producing moderate light reflectivity.
up to 3000 grit that produces high light reflectivity. This finish is finished with a high speed burnisher.
We can also expose 4 different levels of aggregate depending on the concrete we are working with:
fine aggregate exposure (most common)
small and medium aggregate revealed
medium and large aggregate revealed
Let's get started. Let us know how we can help you and we'll be in touch as soon as possible.