About Commercial Concrete Floor Polishing
Building owners and facility managers need to understand that concrete polish has many benefits for commercial and industrial facilities.
Concrete floors in commercial and industrial facilities, such as big box retail, distribution warehouses and production storage, are constantly subjected to wheeled traffic from forklifts and pallet jacks which can be very hard on concrete surfaces, breaking them down over time. At the time of construction, the flooring in these settings is often nothing more than a cure and seal product sprayed on immediately after power trowelling. These spray on products wear off quickly and leave the concrete unprotected, making it easier for staining and damage to occur. Facility owners and managers have options, like epoxy and polyurethane coatings, but are increasingly looking to have concrete floors polished.


The reason that concrete polishing is being considered is due to the improved surface hardness, increased abrasion resistance and the fact that it requires very little maintenance. Aesthetically, polished concrete look clean, and the gloss helps to make the facility brighter by reflecting the overhead lights. Facilities managers also like that polished concrete reduce airborne dust, both from the concrete itself and from the rubber wheels on equipment like forklifts.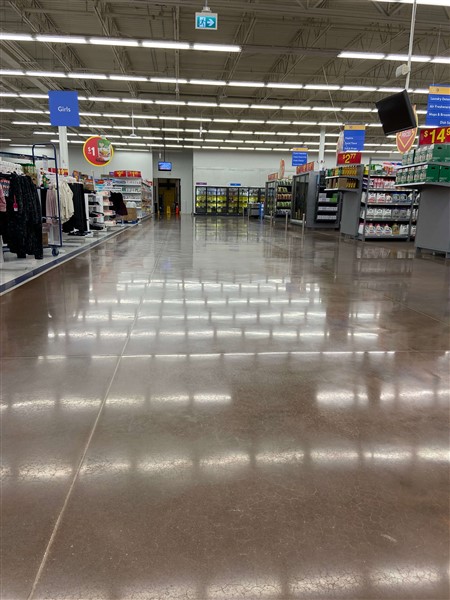 Big box store with a newly refreshed 400grit polish that included densifier and a polish guard.
Top 10 Benefits of Polishing Concrete in Commercial Facilities
What to expect when having a commercial floor polished
Concrete polishing is defined by the gloss level and the amount of aggregate exposure.
Gloss levels are determined by the number of steps in the polishing process, working from coarse polishing pads to increasingly finer grits. The finer the final grit that is used on the concrete grinder, the higher the resulting polish on the floor. The available options are, flat (200 grit polishing pads), satin (400 grit polishing pads), semi polished (800 – 1500 grit polishing pads) or highly polished (3000 grit polishing pads).
Aggregate exposure is defined by the size and quantity of the aggregate in the concrete mix that is exposed by the polishing process. The options are Cream (little to no aggregate), Salt & Pepper (fine aggregate only), Medium (small and medium aggregate), Large (medium and large aggregate). To achieve medium and large aggregate exposure more concrete removal is required. This process creates what some consider to be a more aesthetically pleasing floor while also significantly increases the cost. Increased exposure does not increase performance of the floor in a commercial or industrial setting.
With most commercial and industrial facilities, a satin polish with cream or salt & pepper exposure is perfectly suitable in terms of meeting performance requirements at an appropriate price point. A polish of this type will include a densifier that is applied mid way through the polishing process, a densifier chemically reacts with the concrete to harden the surface. It should also include the application of a polish guard or sealer which is applied to the concrete as a final step to further protect and increase resistance to staining.

Contact us at RexCoat Flooring to get a quote for concrete floor polishing job for you commercial facility in Edmonton, AB.